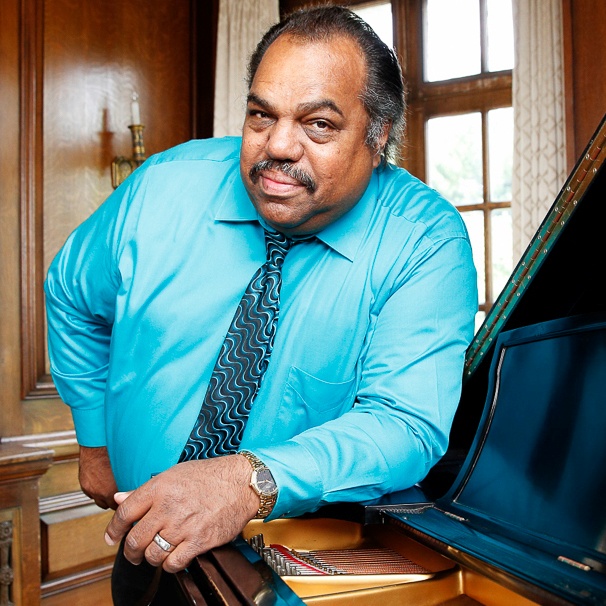 DARYL DAVIS
Support Staff: Race Reconciliator
He is not white. He's not even light-skinned. Make no mistake about it; he is Black. Yet, Daryl Davis has come in closer contact with members of the Ku Klux Klan than most White non-members and certainly most Blacks — short of being on the wrong end of a rope. What's more? He continues to do so, making him one of the most unique race relations experts and activists today.
Originally from Chicago, but currently residing in Maryland, just outside of Washington, DC, Daryl Davis is a musician, actor, author and lecturer. He earned his Bachelor of Music Degree from Howard University and is an accomplished Blues, Rock & Roll, Country, and Jazz musician, performing and touring regularly with his own Daryl Davis Band. He has worked extensively with The Legendary Blues Band and Chuck Berry, Elvis Presley's Jordanaires, Percy Sledge, and Sam Moore, among others. His new nonfiction book, The Klan Whisperer will be published soon.
After a performance in a Country music bar, a man told Daryl he'd never seen a Black man play piano like Jerry Lee Lewis. Daryl explained, both he and Lewis learned from Black Blues and Boogie Woogie pianists. The man didn't believe in the Black origin of the music but became a regular fan of Daryl's. Turns out, he was a member of the Ku Klux Klan. This experience led to Daryl becoming the first Black author to travel the country interviewing KKK leaders and members, all detailed in his book, Klan-Destine Relationships, the first book written by a Black author interviewing KKK members. Accidental Courtesy is a recent documentary about Daryl Davis and his work in race relations.
For almost 4 decades in between gigs, Daryl Davis has walked on the edge with one foot dangling over the precipice. His stories of setting up surprise meetings with Klan leaders unaware of his skin color and attending KKK rallies, has the suspense of Hitchcock, keeping audiences riveted to their seats in disbelief. He is one man successfully taking on the oldest (150 years) and most racist organization in the United States, by himself.
He eventually became the recipient of robes and hoods from Klan members who came to rescind their beliefs after coming to know him. Davis had inadvertently stumbled upon a successful method of forming friendships between sworn enemies. His methods have made him the center of controversy. In some White circles he has been deemed "politically incorrect" and in some Black circles he has been called an "Uncle Tom," and an "Oreo."  Daryl Davis often makes supporters out of his detractors by proving his methods work and issuing this challenge: "I have Klan robes and hoods hanging in my closet, given to me voluntarily by members who have quit the Klan since coming to know me. That's what I've done to improve race relations. How many robes and hoods have you received as a result of your methods?"
As a race relations expert, Daryl Davis has received acclaim for his work in race relations from many respected sources including CNN, CNBC, Good Morning America, The Learning Channel, National Public Radio, The Washington Post, The Washington Times, and The Baltimore Sun. He is the recipient of the The American Ethical Union's Elliott-Black Award, The Washington Ethical Society's Bridge Builder, and the Search for Common Ground Award, among others.
As an actor, Daryl has appeared in the critically acclaimed television show, The Wire, and a number of stage plays and movie roles.